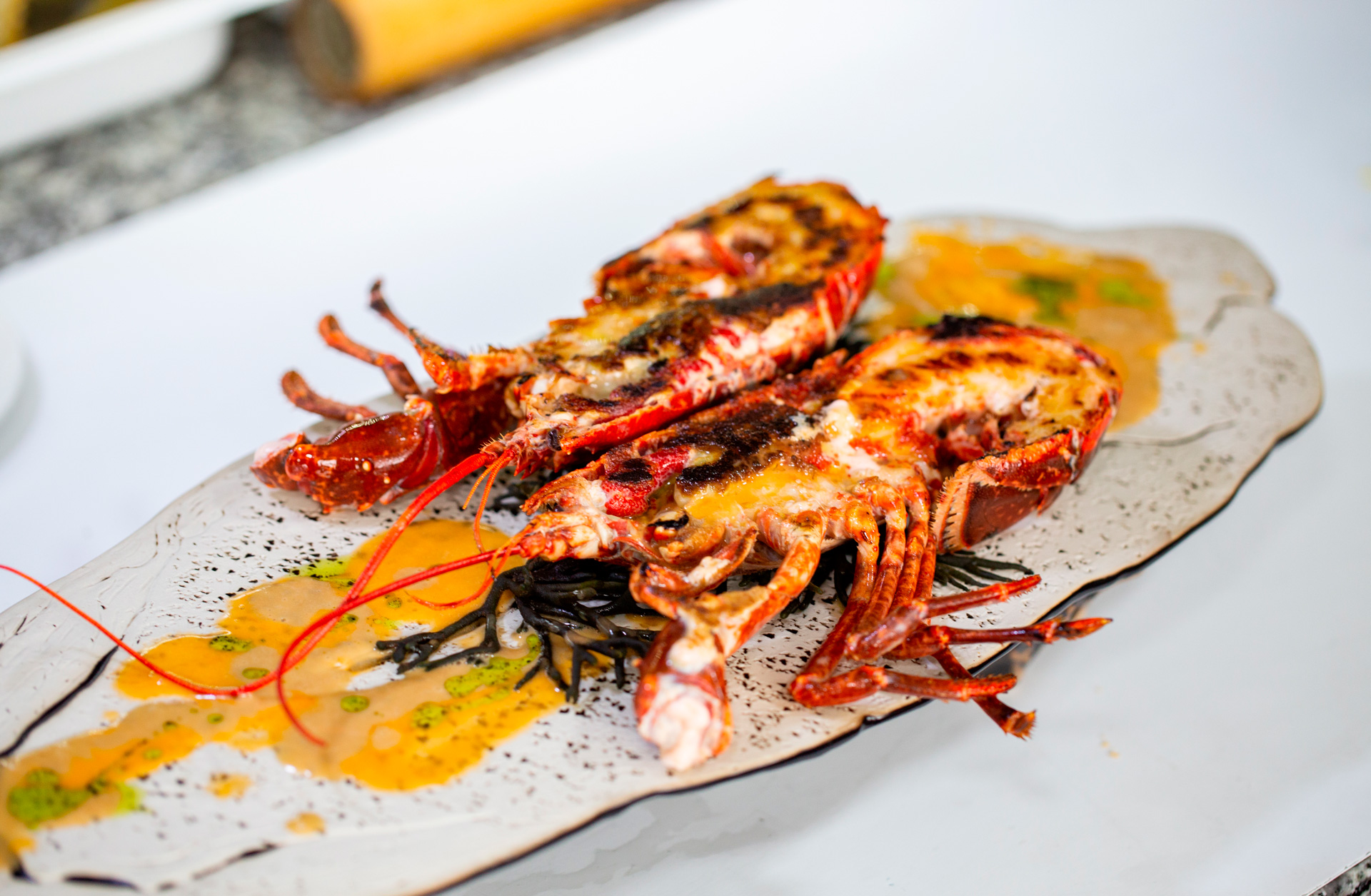 SALTED FISH AND CURED MEAT PRODUCTS
Iberian Acorn Ham well Aged 100%
Dried Octopus Flambeed (Traditional food from Dénia)
Dried Roe Tuna
Dried Tuna
Dried Belly Tuna
Anchovy (00) Fillet in Salt
Grilled vegetable coca, anchovies (00), "Can Sala" and Summer black truffle.
Cherry cold soup "Gazpacho" from Vall de la Gallinera with dried black fish.
Baby white prawn with smoked eel fish homemade.
Tomato with pickles, homemade salted fish and its spicy juice.
Temperate beach squid tartar with onion, legumes from La Marina and smoked sauce.
Clam "Escupinya" in aromatic stew with green chickpeas.
Grilled baby cuttlefish with sweet onion in its ink, Iberian dewlap and "Cacau Collaret".
Grilled sea cucumber with grilled artichoke.
Oyster Gillardeu Natural nº2 (ud.)
Red king prawns from Dénia (depending on weight).
Lobster from Dénia boiled in sea water (depending on weight).
Blue lobster from Cantaberian Sea (depending on weight).
Mediterranean red lobster (depending on weight).
Chickpeas "Pedrosillanos" with spiny lobster and cod.
Spiny lobster stew (depending on weight).
Hook fish seabream, seabass grilled fish (depending on the fresh market).
Grilled cod with garlic crea, and vegetable sauce (The Best Cod from Spain 2020).
Turbot or SanPedro a la brasa (full fish) (min. 2pax).
Salt covered fish or grill (1kg) (sea bass or bream) with steamed vegetables and green citrus sauce (min. 2pax).
Guirra lamb royal with sweet potato.
Grilled "Parda Alpina" entrecotte of bovine senior (300gr).
Grilled lank cut of ox "Wagyu" cut into thin slices with a refined taste (300gr).
OUR RICE VARIETIES

(Lunch time only)
Rice served with mere, monkfish, squid and red prawn from Dénia.
Rice dry with spiny lobster.
Creamy rice with blue lobster.
Acorn-fed Iberian pig paella, seasonal vegetables and Summer Truffle.
*The type of rice used for the elaboration of Our Rice varies. For the dry variety, we make use of Albufera's rice, while for the honeyed one, we use the Carnaoli rice, specially selected from the Valencia's Albufera.
*The rice will be served in the kitchen to preserve its quality and flavor.
Fresh cottage cheese tartlet with Canals strawberry and breton biscuit.
Fine apple cake with vainilla-apple ice cream.
Chocolate coulant Grand Crü, Madagascar.
"Pastisets" of marcona almond with vainilla cream, sweet potato, lemon sorbet and strawberries.
Grilled Medlars from Callosa D' en Sarriá, caramel chocolate and whiskey ice cream.